PRIVATE FRIENDLY & RELAX BOAT TRIP
Ideal experience for a perfect day out for couples, families or celebrations amonst friends or companies.
Amazing excursion visiting the most beautiful beaches and the south cost of Gran Canaria and the natural cost park. Includes 40 minutes stop to swim and snorkel in one of the crystal water beaches and we provide snorkel gear, the exhilarating bladefish, free drinks, some snacks and good music on board.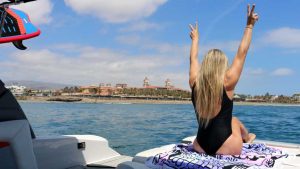 TRANSFER
Private VIP transport going & returning from hotel
ON THE BOAT
Sailing with the boat
Snorkeling with equipment
ALSO
Free drinks
Snacks & some appetizers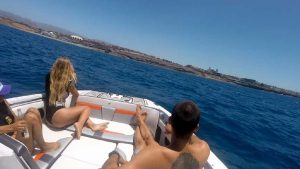 BOAT RENT FOR 4-8 PEOPLE
€400
4-8 persons, 3:00 hours
BOAT RENT FOR 4-8 PEOPLE FULL DAY
€750
4-8 persons, Full day trip (6 hours)
WARNING:
The boat has a capacity up to 8 people
The trip include snacks/drinks and wakesurf/snorkeling equipment